An Ecosystem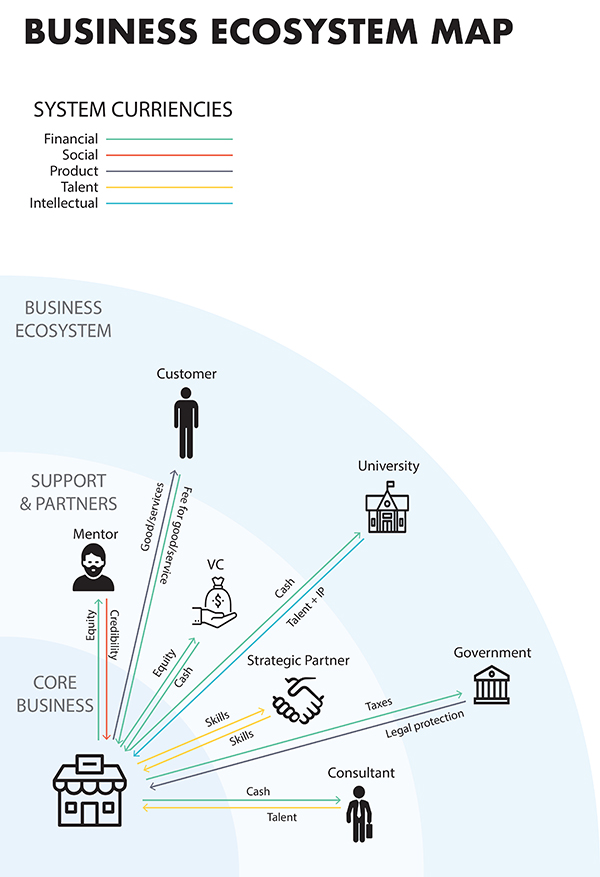 It takes a village . . .

Breakthrough innovations are not achieved through one person's efforts and insights. Some would describe Steve Jobs as the exception to this rule, but he wasn't. And if he were, he would be a very rare exception.
For its size, Nashville has received a fair amount of attention on the entrepreneurial front, especially in the healthcare field. Some other cities envy Nashville's relative success. One could argue that the healthcare ecosystem that has developed over decades is a key differentiator, and a difficult one for other cities to replicate.

Players in a high-performing ecosystem need a higher goal than just their own profits and growth. They need a compelling vision for a shared future.
At Kernel, we don't presume to have all the answers, skills, experience or funds to solve wicked problems, or even to build breakthrough innovations. We do, however, believe that we can bring critical elements, that when combined with other critical elements, can and will push Nashville's entrepreneurial economy to heights it has never seen before.
We've seen a thing or two
In addition to our capabilities around fast, high-quality, low-cost technology development, we contribute strategy insights, street smarts and sales help as appropriate to support their journey. Our leaders have been around the block. We eagerly team with founders, VCs and Private Equity, academia, innovation centers, design thinkers, makers, agile and lean facilitators, branding gurus, etc. We believe in playing to strengths, in being honest and self-aware about our strengths, and open about ways to engage with others.
If you want to work hard, you know what you are great at (and not), and you are fun to be around, we want to meet you. Let's find a way to work together on a newsworthy cause. And along the way maybe we'll help Nashville rise to the next level as a place to come when you want 'make a dent in the universe,' as Steve used to say.
Kernel – an equity firm, not an equity fund